Ohio Headquarters - Mansfield, Ohio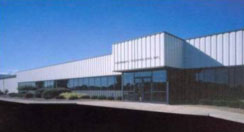 NTI Ohio was founded in 1987, and serves as the headquarters for Newman Technology in North America. Producing Exhaust Systems, Door Sashes & Exterior Trim for Automotive, our sales volume totaled over $350 Million in 2012. Our Research & Development facility was added in 2008, providing full design, prototype, and testing capabilities.
Contact our Ohio location
Albertville, Alabama
Our Alabama facility produces Upper Door Sash, Exterior Trim, and Hot End Exhaust Parts for Automobile Applications Contact our Alabama location
Aiken, South Carolina
Newman's South Carolina facility, located in Aiken, SC produces Exhaust and Frame Parts for  ATV, SxS and Power Equipment.
Contact our South Carolina location
 Guanajuato, GTO, Mexico
Our Production Facility in Guanajuato, Mexico was opened in 2016 and is located in Central Mexico's fast-growing Automotive Corridor. We are able to manufacture and ship parts for the North American and Global Markets from this location.
Contact our Mexico location